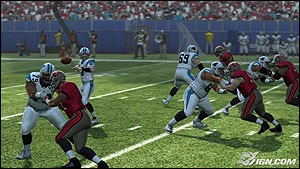 Hand eye coordination and faster reaction times often get credited as benefits to playing video games, but how about strategic thinking or even the way athletes play their games?  Chris Suellentrop from Wired explains on how the current generation of athletes, now college graduates who grew up playing sport video games, are changing the way sports, especially football, are changing.
Similar to the computer opponents in chess and online poker players, video games simulations of football, like the popular Madden series, have become so detailed and accurate, that athletes and their coaches are using these games to train for games and research possible plays and outcomes. Madden has even been used to correctly predict the winners of five of the last six Super Bowls and the AFC and NFC Championship winners within 3 points.
With years of basically computer training, athletes moving up from high school to college and then professional have a better understanding of the game – they can read the other team better and make faster decisions, requiring less apprenticeships. Wired goes into detail:
At the Pop Warner Super Bowl in 2006, the winning team had 30 offensive plays, which it had learned through Madden. ("I programmed our offense into Madden to help me memorize our plays," one 11-year-old told Sports Illustrated. "It was easier than homework.") Dezmon Briscoe, an all-conference wide receiver for the University of Kansas, credited Madden 2009 with teaching him how to read when defenses "roll their coverages" — move their defensive backs to disguise their strategy. Chuck Kyle, a high school coach who has won 10 state championships in football-mad Ohio, has programmed his team USA playbook into Madden and uses it to teach players their assignments. So have coaches at Colorado State, Penn State, and the University of Missouri, among other schools. An offensive lineman for the Tampa Bay Buccaneers used the videogame as a preparation tool for an entire season, scouting his opponents digitally. While even-more-sophisticated software is available for virtual sports training, coaches and players at all levels of football say that Madden's off-the-shelf simulation is good enough.
It's likely much of the next decade will have a lot of "now that the gaming generation" type stories (hell, I've done two is as many weeks) as we start seeing the next generation of gamer movie makers, marketers, and other areas we can't even predict. And so far, these gaming influences were far from intended but open up exciting possibilities for what can games, and technology, do next.